The rise of the jigsaw puzzle
18th September 2020
Since the start of the coronavirus pandemic, sales of puzzles for adults have skyrocketed.
While lockdown may have been lifted, social distancing has become the new-normal and many of us are having to isolate for extended periods. For those wanting to temporarily remove themselves from the digital world, jigsaw puzzles are proving to be an excellent method of alleviating boredom.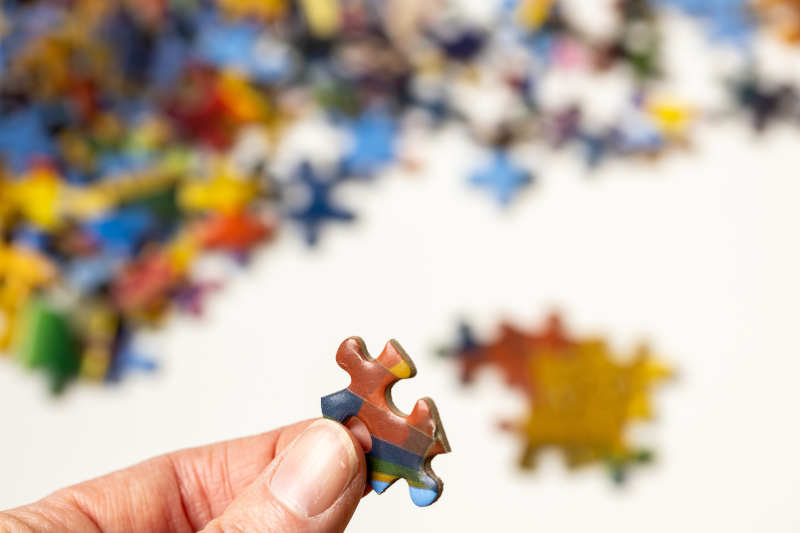 A piece-full experience
Currently, social media is brimming with pictures of puzzles in various stages. With many completed jigsaws resembling works of art – it's no wonder avid puzzlers choose to frame their completed work and put it on display.  Like baking and cooking, solving puzzles has become a sought-after activity during the pandemic.
With so many modern activities confined to a screen, people are seeking a more tactile, gadget-free experience. Puzzles keep the hands busy, whilst also giving the brain a solid work out.
Brain benefits
Puzzles are fantastic for improving visual performance. Children are able to improve their cognitive ability through recognition of shapes, colours and basic patterns. For adults, cognitive ability goes beyond the basics of recognition of patterns, and allows for more advanced reasoning.
Jigsaw puzzles exercise the left and right sides of your brain simultaneously. Seeing that the left is more logical and works in a linear fashion, while your right side is creative and intuitive – a jigsaw could be considered a mental workout that improves your problem-solving skills and attention span. It's no surprise that Bill Gates admits to being an avid puzzler!
Looking to improve your short term memory? Jigsaw puzzles can help by reinforcing connections between brain cells, thus improving your mental speed. Solve a 1000 piece puzzle, and you'll have no problem remembering what you had for lunch the previous day!
"Puzzles are meditation for the modern age,"

Rachel Hochhauser
In the current climate, stress is rampant. Focusing on one image for a long period of time, without extraneous thoughts entering your mind, is in itself meditation. By doing a jigsaw puzzle, you're achieving the same benefits of meditation. The stress of everyday life evaporates and is replaced by a sense of peace and tranquillity that lowers your blood pressure and heart rate.

The Works at Garden Square
Over the past few weeks, The Works have launched a whole host of new buys, for everyone from the first-time puzzler to the more seasoned pros. The new crop of puzzles are complex, sophisticated and some even come in non-traditional shapes. While you can get pieces that come together to create nostalgic pictures, The Avengers, Harry Potter or famous locations – the hardest are those that form more abstract images or patterns.
If you're feeling brave, why not try your hand at Dalmatians? Although only consisting of 529 pieces, this is regarded as one of the world's most difficult jigsaw puzzles. Its double-sided pieces feature an identical image on both sides off-set by 90 degrees – and that's without mentioning the insanely busy composition that features hundreds of adorable Dalmatian dogs! You'll be seeing spots by the time you complete this piece!