Craft Month
17th March 2021
March is Craft Month and as we remain cooped up indoors due to the nationwide lockdown, there's been no better time to get creative!
Get through these gloomy days with a crafty little hobby to keep you and the kids occupied. Let us refresh your creativity with this week's blog, as we offer fun inspiration for spectacular springtime crafts!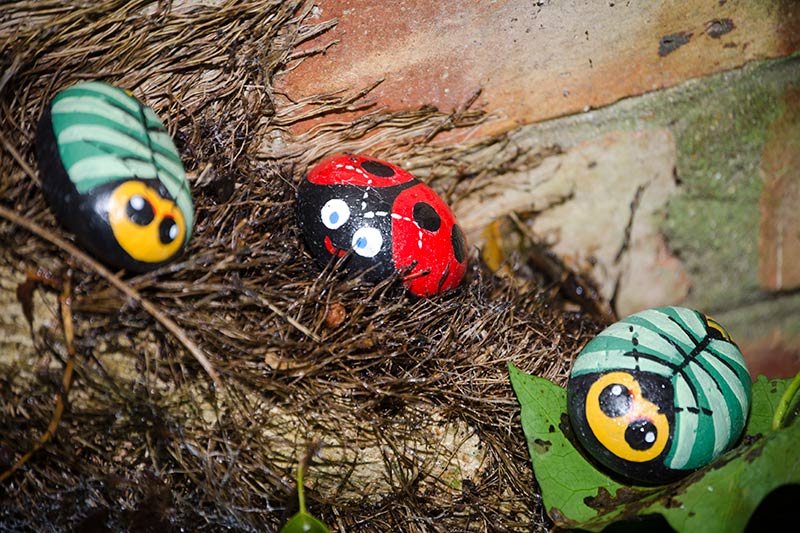 Pebble Ladybird
As the weather gets warmer, ladybirds are starting to emerge from hibernation. These cute little beetles are pretty, graceful and harmless to humans – best of all, they're super fun to paint! 
Pebble ladybirds are simple to make, they're also a great little addition to a plant pot and add a dash of colour to the garden. Once the black spots are added, children of all ages will be amazed as the stones transform into stunning mini-beasts!
The first thing you'll need to do is head outside and collect some stones. Children will have a great time exploring the garden, searching for "the perfect stones" then washing them off in warm, soapy water.
Start by preparing your work space by laying down newspaper. Paint the front of the pebble red and leave to dry. Depending on the natural colour of the pebble and how well the paint has covered it, they may require another coat. We recommend using acrylic paint, as it is thick and highly pigmented – giving you a lovely bright colour.
Decide which end of your pebble is going to be the head. You can paint on a smiley face or stick on some funky goggly eyes available from WHSmith and The Works!
Paint a black stripe down the middle and some black spots (use the image above as a reference) – then you're good to go!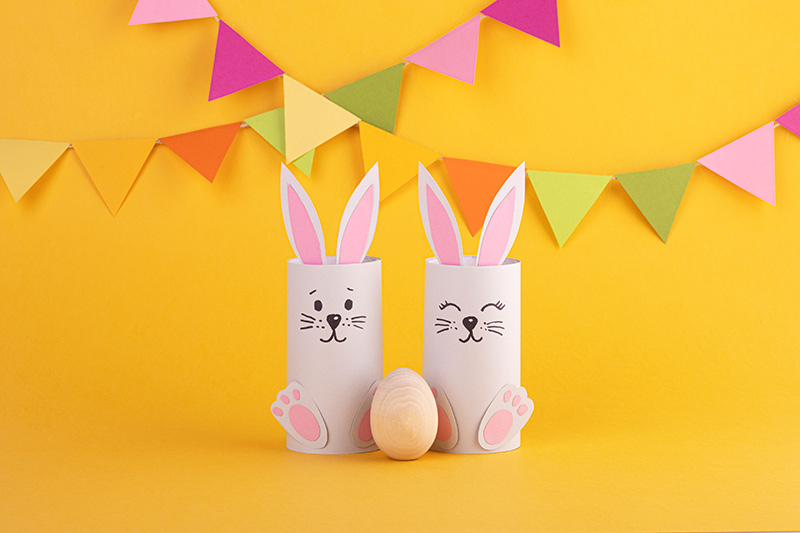 Toilet Roll Bunny
With Easter on the horizon, it's time to get cracking on some rabbit-themed crafts! Do you ever look at a toilet roll and envision it as a bouncy bunny? No? Well, on paper, it might sound like a somewhat harebrained concept (pun absolutely intended) – but with a little creativity, you can transform the most mundane object into something fun!
Start by painting your toilet rolls white. It's likely that you'll need to do several coats to fully cover them. Once again, acrylic paint is recommended since it cuts down on the number of coats you may need to do.
Make the bunny ears and feet by tracing them out on white card, then create a smaller insert with some coloured paper of your choice.
Lastly, draw on the mouth, nose and eyes with a black felt tip. Don't forget those cute little whiskers!

Painted Eggs
Young kids love eggs; from eating them to chucking them at people (although we absolutely don't encourage this) – but have they ever considered making crafts with them? An egg-cellent way to keep your children entertained throughout lockdown is to add bright colours and patterns to eggs with acrylic paints!
This can get messy as toddlers do not have the most delicate of hands. We recommend hard boiling the eggs so they can paint without fear of them breaking. 
Using a brush and acrylics, paint the designs on the eggs. Avoid smudging by painting half and then allowing to dry before attempting the other half. When complete, prevent the design from rubbing off by covering the egg in PVA glue or Mod Podge.
Garden Square
WHSmith and Home Bargains at Garden Square stock paper, pens, paints and much more. When shopping for your essentials, be sure to grab some top notch craft materials! If you're looking for even more arty supplies, visit The Works' website. 
We'd love to see your finished craft projects! Once complete, post them to our Facebook wall or to tweet us.