Costa Coffee Autumn Menu
12th September 2018
Costa Coffee, the nation's favourite coffee shop, has launched an exciting new September menu to ease us into the autumnal months.
In store now, the range features delicious new seasonal drinks and tasty sweet and savoury menu options.
Bonfire Spiced Range
Bonfire Night is a highlight of the autumnal calendar, so what better way to start the countdown than with the new Bonfire Spiced Range.
Featuring three drinks, the flavour profile of rich caramel toffee and toasted spices are complemented by cinnamon, cloves, cardamom and ginger, which provide a taste sensation.
The Bonfire Spiced Latte combines the rich, smoky flavours of toffee and spices with steamed milk, and Costa Coffee's espresso topped with a sprinkle of caramel and a light dusting of cinnamon.
Made using Costa Coffee's signature Mocha Italia blend, the coffee accentuates the deep flavours brilliantly.
The Bonfire Spiced Hot Chocolate is a deliciously indulgent combination of the seasonal flavours and chocolate making for the ultimate autumn pick-me-up.
The Bonfire Spiced Cold Brew is a take on the single origin Colombian Cold Brew. Expertly blended with the Bonfire syrup and spices, and topped with a generous helping of Whipped Milk, a velvety soft milk foam.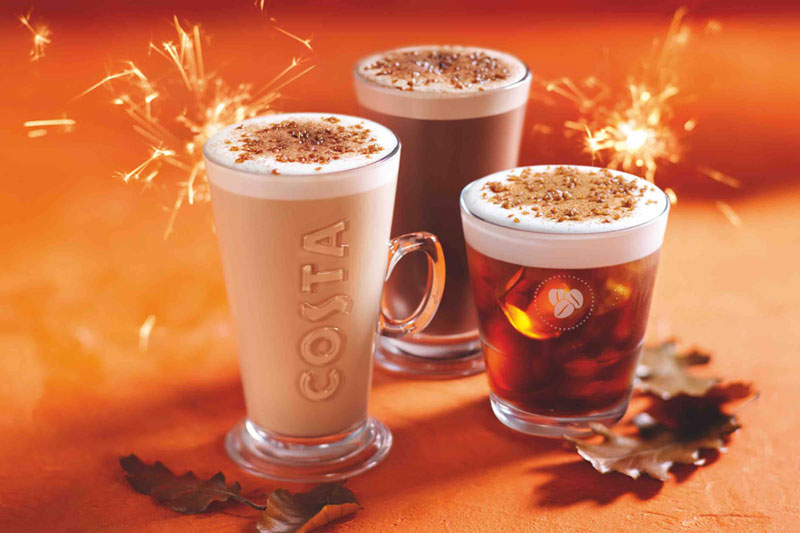 Breakfast and Lunch
Costa Coffee is proud to introduce a new range of lunch items which are suitable for vegetarians and vegans.
The creamy Goats Cheese and Grilled Pepper Focaccia is the perfect veggie feast for an autumn day while the Thai Red Curry Meal Pot (launching Thursday 4 October) is a fragrant, lower calorie choice for those who are looking for a lighter option and follow a vegan diet.
Other tasty new lunchtime menu stars include the spicy Chilli Con Carne Rice Pot (launching Thursday 4 October), and Chicken Arrabiata Pasta.
Morning commuters are sorted with the introduction of two new breakfast items perfect for those on the go.
Adding to Costa Coffee's vegetarian breakfast range is the Free-range Egg Veggie Pot; a delicious serving of with mushrooms and a free-range egg to kick-start the day.
Meat-eaters will love the new Ultimate Breakfast Wrap which includes sausage, bacon, egg and mushroom and finished with tomato sauce.
Delicious Desserts
For those looking for a treat, Costa Coffee has a number of delicious new options to choose from. The Seriously Chocolate Cake is seriously good: an indulgent treat made of rich chocolate sponge; layered with salted caramel and chocolate fudge icing, topped with chocolate curls.
The Vegan Sticky Toffee & Pecan Cookie has a gooey toffee centre and is finished with a sprinkle of pecans. The Jumble Berry Loaf Cake, a deliciously sweet loaf cake packed with fruit, nuts and seeds, is the perfect nod to the autumnal season.
Gennaro Pelliccia, Master of Coffee at Costa said: "After the scorching summer we've had, we're ready to welcome autumn and all the flavours it brings. Costa Coffee is getting into the seasonal spirit with the delectably smoky new Bonfire Spiced Range which includes three new drinks to celebrate all things autumn. We've taken inspiration from this time of year to offer an exciting range and catered to a variety of dietary requirements to ensure there is something special for everyone."
Costa Coffee's new September menu is in store at Garden Square now and can be viewed online.