A Fun-packed Summer
5th September 2018
It's not easy to keep the kids entertained over the summer holidays, but with the help of Garden Square and the shopping centre's Kids' Club, Letchworth families were able to access plenty of free and fun activities and shows throughout August.
Garden Square's Kids' Club
Dedicated to children aged between 3 and 15 years, Garden Square's Kids' Club allows children to nurture their artistic talents and meet new friends. With supervised creative events held at the shopping centre every Wednesday in August, members could design and decorate various craft items to take home and keep. These included:
1st August: Sock Puppet Workshop
8th August: Wild Craft Workshop
15th August: Robot Craft Workshop
22nd August: Aladdin Craft Workshop
29th August: Animal Mask Making Workshop
All crafting tables at every event were full of children, demonstrating the popularity of these crafting activities. The shopping centre's social media pages received lots of positive feedback too:
"My children and brother loved making robot masks today. Thank you!"

Michelle Mountney
Nichola Jagger: "My two children had a blast. These activities are amazing and much appreciated by me – my two even stopped bickering for the duration! Thank you."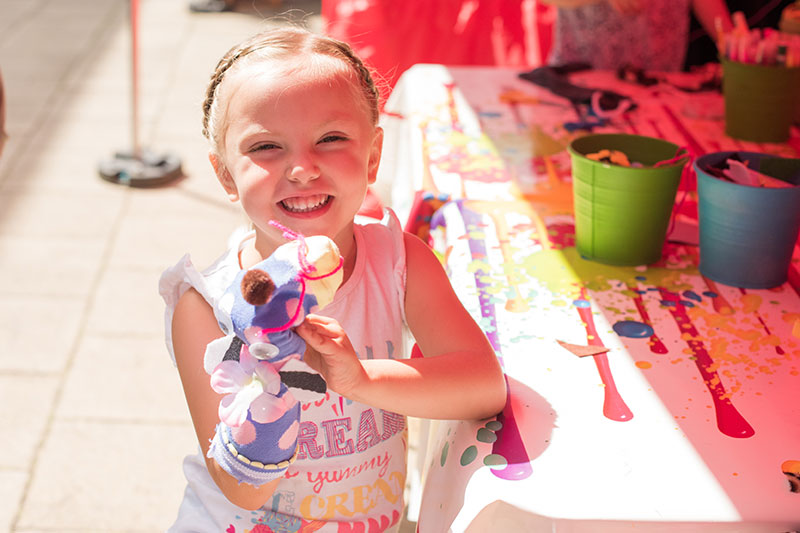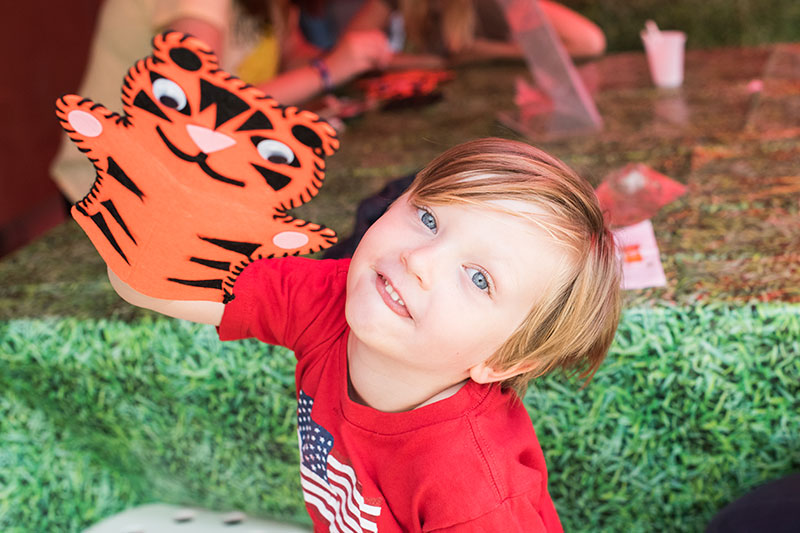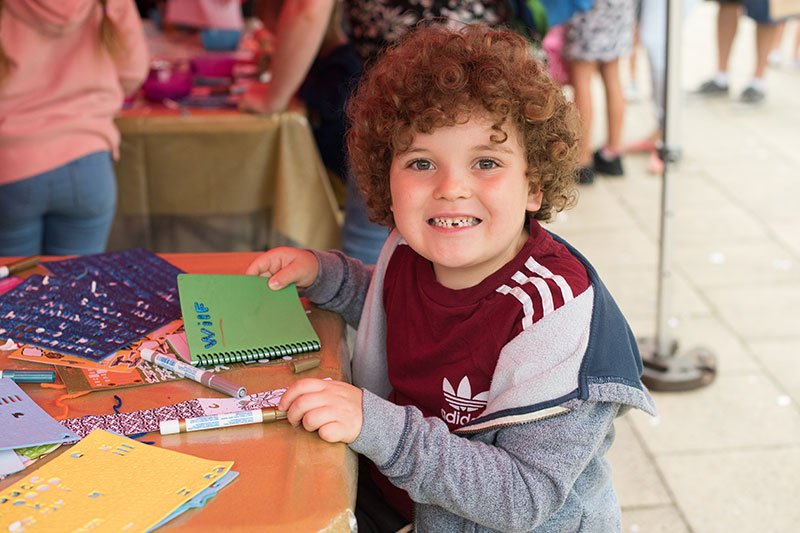 Show-stopping Entertainment
As well as crafting activities, Garden Square also hosted show-stopping entertainment every Friday in August. These shows included:
2nd August: The Rat Race Show
Housed inside a giant wedge of cheese, a set of especially intelligent puppet rats highlighted some of the absurdities of society in order to show an audience of human lab rats what it's really like to be in the rat race. Through the holes in a gigantic Emmental, the rats gave an entertaining insight into their take on human culture. Once inside, a lucky few participants were thrust into a surprising series of sticky situations and, with help from the insightful rodents, they attempted to complete the increasingly ludicrous tasks required to escape.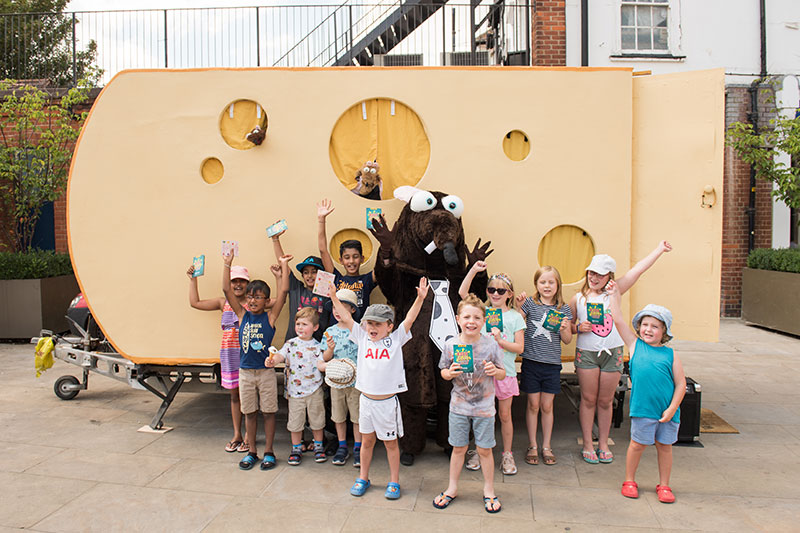 10th August: Rumble in the Jungle
Families could join Captain Jon Voyage and Doctor Rafferty Goggins, as they took them on a buffoon's romp through the golden age of adventure in a Rumble in the Jungle Show. Beginning at their base camp on the island of Honopopo, they journeyed deep into the jungle's dark heart searching for new species, lost civilisations and loot. Plundering the age of the exotic in children's fiction, the show drew on The Jungle Book, Tarzan, The Lost World and The Land that Time Forgot, mixing it all with a dash of Carry On up the Jungle.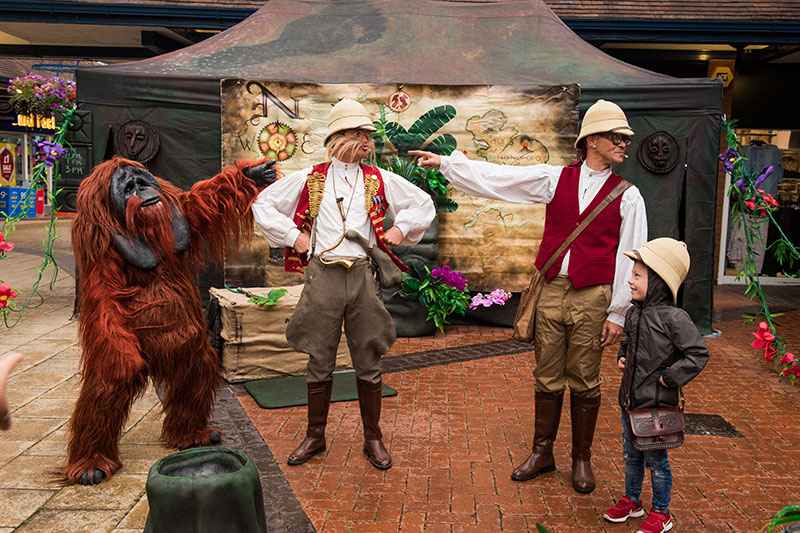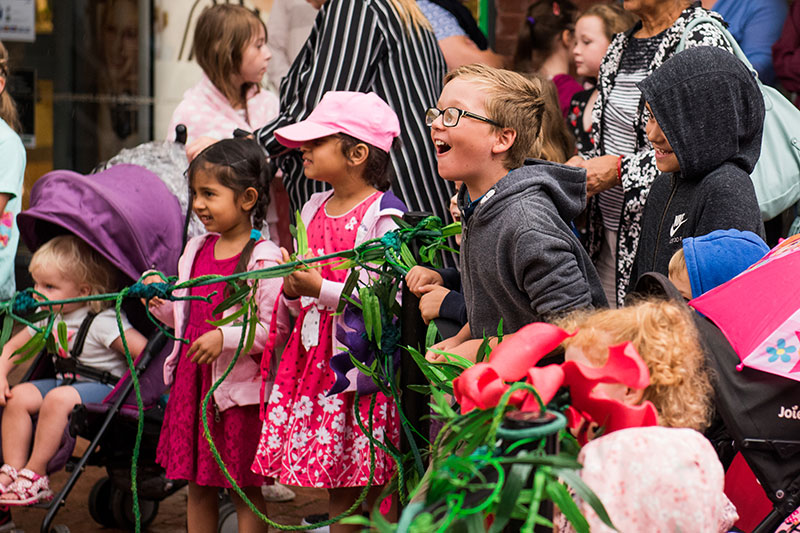 17th August: Titan the Robot
Garden Square was visited by the mechanical marvel that is Titan the Robot – a high tech awe inspiring Robot that took 4 years to build. The fully articulated, interactive walkabout Robot has become a breath-taking phenomena, regularly attracting huge audiences, stopping traffic and bringing town centres to a standstill – and he didn't fail to disappoint in Letchworth. Crowds gathered, laughed, cheered and watched this eye-popping spectacle as he captivated young and old during a series of shows on the day.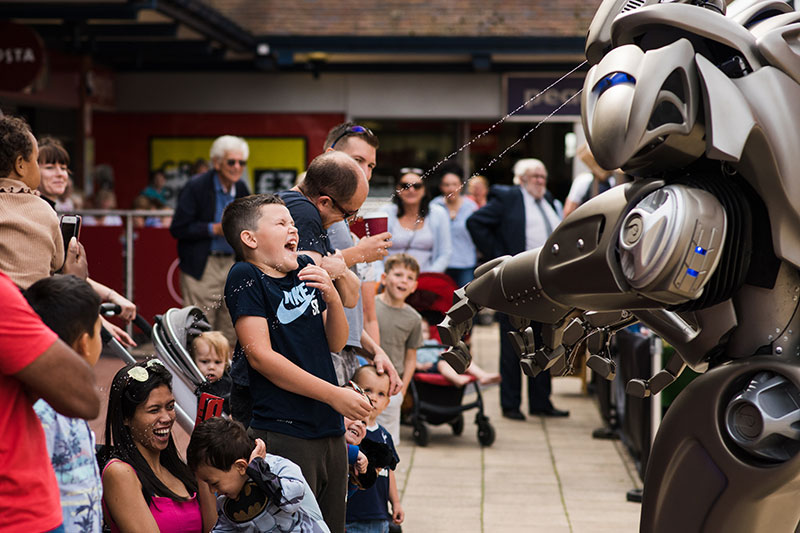 24th August: The Flying Carpets
From across the desert sands came legendary storytellers and men of mystery Ruby Murray and Alfonso Mango, on their magical flying carpets. Played in the romantic style of Victorian men on their magnificent flying machines, mixed with the slap-stick comedy of a Bernie Clifton style ostrich illusion. These colourful, comic characters demonstrated powers of flight and levitation, enchanting all with their tall tales, terrible jokes and inept seductions.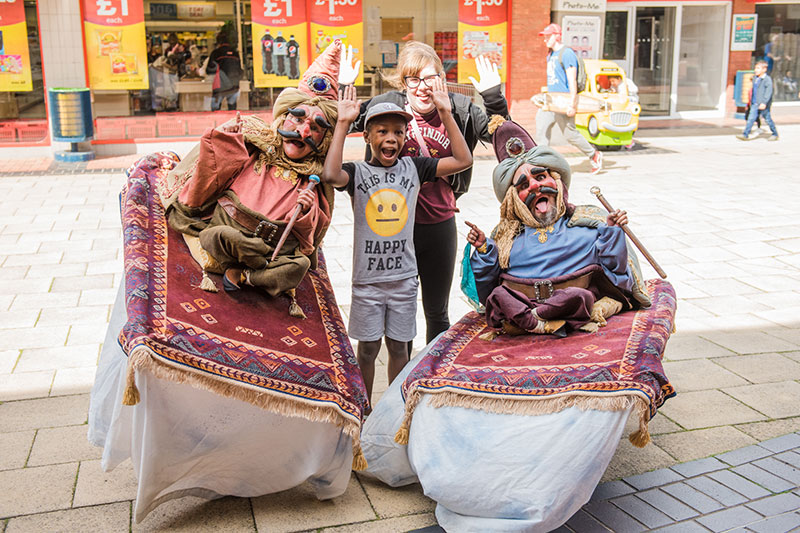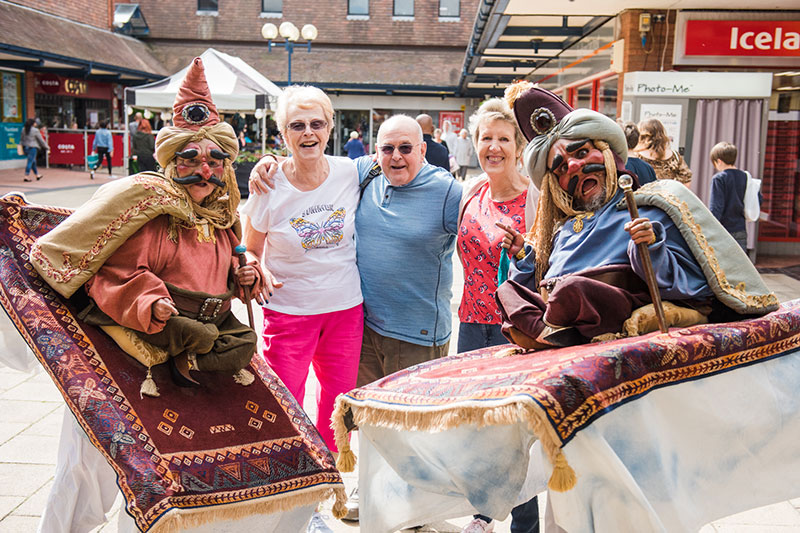 31st August: Cats Choir Show
The final event of the Summer of Fun activities was the Cats Choir Show. Visitors to the Square could meet Stickleback Plasticus' street-smart curious felines and explore the world through cats' eyes. From inside their oversized rubbish bin homes, Tom (a street-wise loud-mouthed alley cat) and Ella (a pedigree puss abandoned by her owners) – entertained crowds with themes of family, home, food and environment, raising the issues of waste and ecology.
Movie Mondays
Every Monday throughout the summer, Garden Square's Kids' Club also hosted a series of free movie screenings on the first floor of Wildwood Restaurant in the shopping centre. Kids' Club members could enjoy Flushed Away, The Jungle Book, WALL.E, Aladdin and Cats & Dogs 2.
Families could also benefit from cut-price lunches at Wildwood in association with the screenings.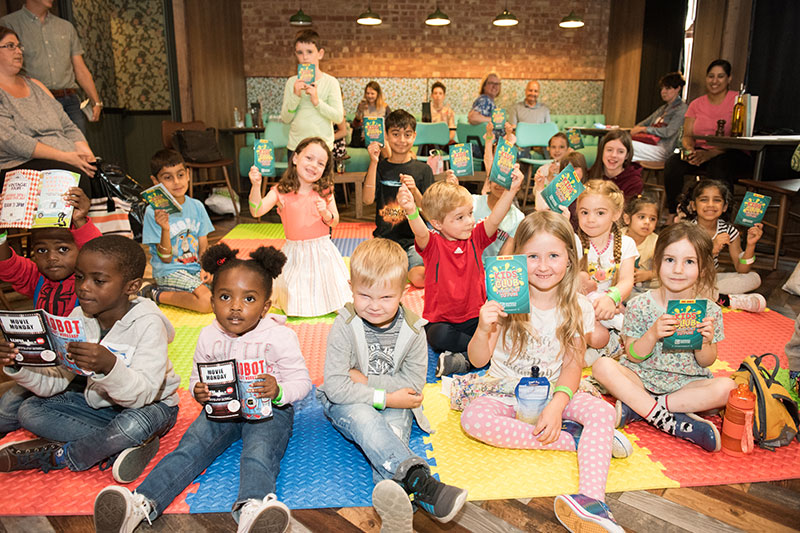 A Huge Success
All of Garden Square's Summer of Fun events drew in crowds, increasing footfall throughout the summer period. The shopping centre's social media pages saw follower numbers surge and high levels of engagement.
"Such wonderful and well thought through entertainment this year. The Children have enjoyed cinema, theatre, robotics and more. I think you would have to go a long way to find a shopping centre with better on offer! You have been key to summer holiday boredom busting – THANK YOU!"

Anna 'Dove' Blacklaw
Caroline Achton Friis-Ellis: "If I add up what it would cost to take 2 kids to the cinema, pottery painting and to the theatre last week, I reckon it would have cost me well over £100. But it didn't because it was all provided FREE thanks to Garden Square Shopping Centre. This meant we went for lunch in town twice too and used offers for that as well. Thank you for a great holiday initiative!"
Follow Garden Square Shopping Centre on Facebook and Twitter to keep up-to-date with up and coming events taking place at the shopping centre over the next few months.