Preparing for Life After Lockdown
9th April 2021
Earlier this week, it was confirmed by Prime Minister Boris Johnson that non-essential shops, as well as hairdressers, gyms and outdoor hospitality, can reopen from 12 April in England.
This follows the easement of lockdown restrictions that began on the 29 March, which saw an end of the nation's stay-at-home rule and a return to the rule of six.
We are pleased to announce that Garden Square Shopping Centre will reopen in full next Monday in line with government guidelines. Social distancing measures are set to persist until 21 June, therefore it is important that we remain vigilant by isolating if unwell, maintaining immaculate hygiene and respecting the space of others.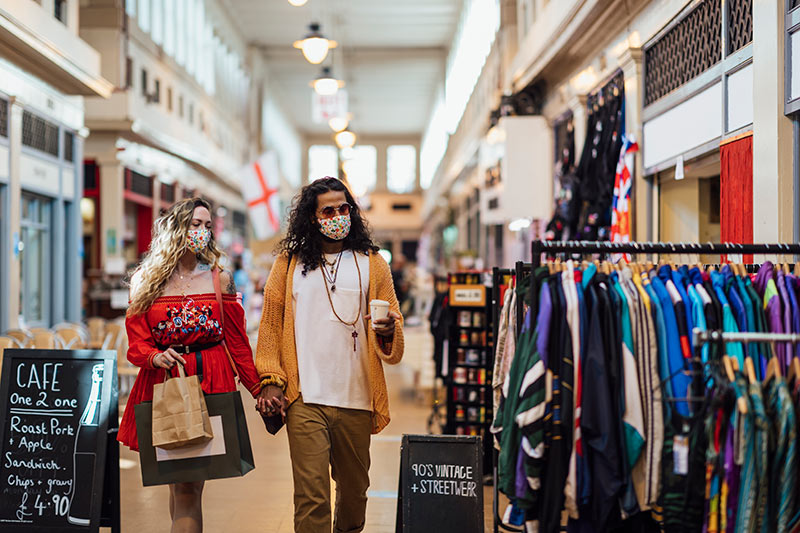 What's Changing?
From next week, the second stage of England's lockdown relaxation will enable many businesses to reopen for the first time in three months. This will include non-essential shops, hairdressers, nail salons and gyms, while bars, pubs, cafes and restaurants will be allowed to serve customers outdoors – but groups will be limited to two households or by the rule of six. 
Self-contained lodging, such as campsites and holiday rentals, will also be allowed to accept visitors. Independent or household visits to libraries, community centres, zoos, theme parks and drive-in cinemas will also be allowed.
It's a cautious but, we hope, irreversible path, and the effectiveness of the vaccine gives me increased confidence that we are going to be able to walk down that road as set out in the roadmap and we can see that the vaccines are making people safe and saving lives.

Matt Hancock, Health Secretary
What Rules Will Shops Follow?
In addition to the previously mentioned face mask and social distancing laws, shops and members of the public will need to follow the Government's 'COVID-secure' measures. These outline the precise precautions people must take to help keep infections under control when stores reopen. 
Under these rules, fitting rooms will remain closed, large families will be restricted and customers will be urged to pay using a cashless method where possible. Similar to the measures seen in supermarkets during the crisis, one-way systems and barriers will also be put in place enabling customers to shop whilst retaining a safe distance from one another. 
Hygiene is of paramount importance in preventing the spread of the virus, therefore upon arrival, shoppers will be asked to sanitise their hands and will be told to only handle products they wish to purchase. Posters, signage and visual aids will be placed on shop windows and doors to clearly outline the current rules and steps.

The Great Reopening
The majority of our stores will be reopening on 12 April, whilst our cafés and eateries will provide safe, socially distanced outdoor seating for their customers. To celebrate, many shops will be offering great deals – this includes an incredible 25% off everything at New Look from 12-14 April, a 2 for £5 mega deal at The Works and an epic month-long "everything must go" sale at Trespass!
Our good friends at F.Hinds are also offering up to 50% off selected items in-store. Alongside this sale, the shop are also giving customers the chance to recycle their old jewellery for money off a new item in-store, cash or a gift card!
During this lockdown, we welcomed the Turquoise Kitchen to Garden Square – this fantastic Turkish restaurant offered delectable takeaway food to customers who were forced to stay at home. As restrictions ease on Monday, the public will have the opportunity to enjoy an alfresco dining experience outside the eatery and meet the hard working staff behind the scrumptious Mediterranean food! 
Garden Square are also immensely pleased to welcome back Anytime Fitness, as their qualified personal trainers aim to help us shed those dreaded lockdown pounds and get in shape for the summer! With internal cleaning regimes, self-serve sanitisation stations, capacity management and increased ventilation, as well as equipment spaced to create adequate social distancing – members can rest assured knowing that the gym's staff have gone the extra mile to ensure the safety of all. 
Another surprise waiting for customers on Monday, is the complete redesign and refit of EE. Be sure to pay the store a visit to check out their new look! 
We're Getting Ready
For the past year, our priority has been the safety of everyone who visits and works at Garden Square Shopping Centre – nothing is more important to us. Our range of safety measures enable all to shop smart and shop safe. 
As we gear up for the big reopening, we'd like to say thanks to everyone who has kept essential stores and our food takeaway services open, along with keeping the centre clean while we've been in lockdown. Our team will continue to work hard to make sure the centre is hygienic and safe.
Please ensure you follow all guidelines when you visit and we will communicate updates or changes to information to our online community via our website, Facebook, Twitter and Instagram.