Pancake Day
15th February 2021
Shrove Tuesday is the day that precedes Ash Wednesday and, this year, takes place on Tuesday 16th February.
Shrove Tuesday offers one last chance to indulge and eat whatever you want, ahead of the 40 days of fasting and religious obligations synonymous with Lent. While COVID-19 has drastically affected almost all of our most anticipated celebrations, from Christmas and Ramadan to Bonfire Night – thankfully, Pancake Day will be relatively unscathed by the pandemic.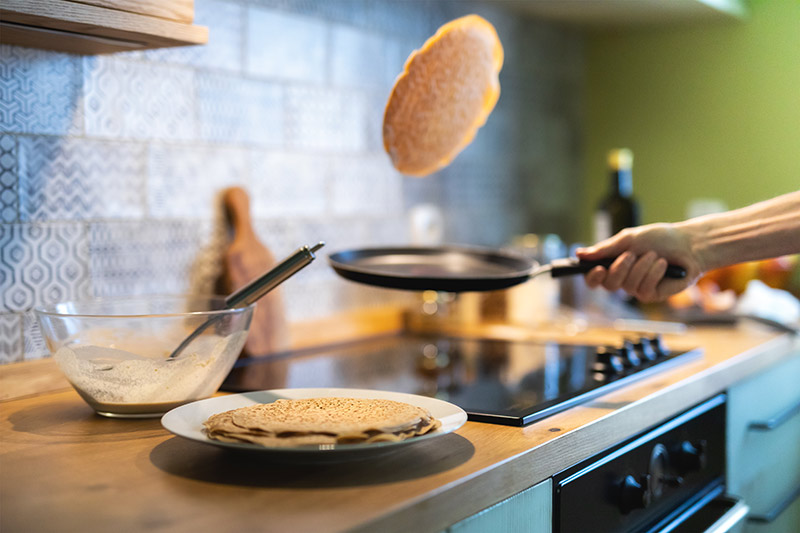 Pancake Recipe
If you're planning on cooking some flipping delicious pancakes this year, try using the recipe below:
Ingredients
100g plain flour
2 eggs
300ml milk
1 tbsp sunflower or vegetable oil
Method
Add the flour, eggs, oil and 100ml of the milk into a bowl. Whisk them together and then gradually add in the remaining milk. Continuing whisking until you have a smooth batter.
Wipe the oil onto a pan and turn to a medium heat. Pour some batter into the pan and move it around so that the batter is evenly distributed.
Cook each side of the pancake for approximately 30 seconds and until it is golden brown.
Pancake Toppings
Not satisfied with a humble pancake? Bored of the traditional combination of lemon and sugar? Well, this year we have some radical pancake topping recommendations – catering to those with a sweet tooth or diners who prefer the savoury option, our suggestions have zero percent chance of falling flat! 
Sweet
Banana, Toffee Sauce and Lotus Biscuits – Slice some bananas, crush a pack of Lotus biscuits and drizzle them in toffee sauce. The result? All of the delectable flavours of banoffee pie, confined into a seriously yummy pancake!
White Chocolate, Marshmallows and Strawberry – The taste of strawberries covered in molten white chocolate and marshmallows is difficult to resist. 
Shortcake, Chocolate and Salted Caramel – Capture the essence of a millionaire's slice within a pancake! Sprinkle crushed shortcake then add some smooth chocolate – finish this divine treat with a trickle of salted caramel and dig in! 
Banana, Nutella and Strawberry – This list simply wouldn't be complete without a mention of Nutella! If you're a fan of chocolate fondue, this topping is the one for you!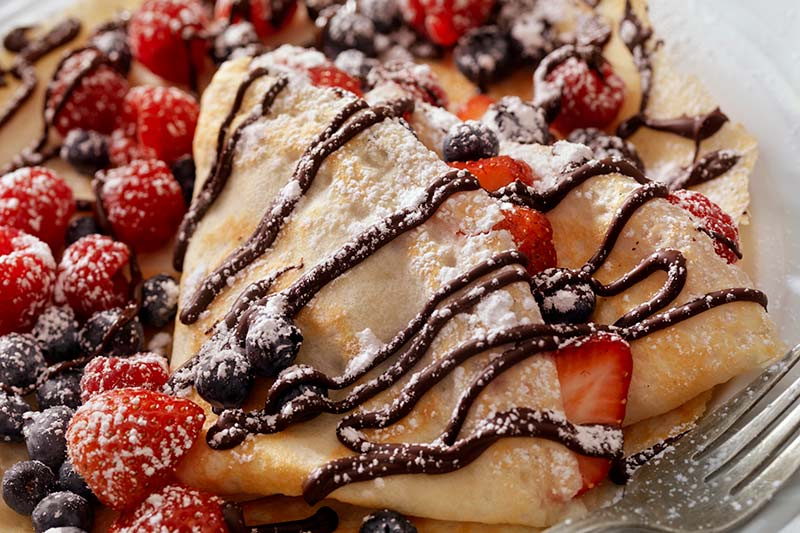 Savoury
Red Onion Chutney, Mozzarella and Bacon – This one makes for a scrumptious lunchtime snack! Surely the thought of that gooey mozzarella melting over the crispy bacon is enough to get your mouth watering?
Pesto, Spinach, Cherry Tomatoes and Mozzarella – Fancy a pizza… in a pancake? Add a slice of ham then sprinkle some pepper and you're ready to experience the taste of Italy!
Beans and Weetabix – Wait… what? How did this find its way onto our list? We advise everyone to avoid this terrifying combination.
Pancakes from Garden Square
If you need to stock up on cooking essentials, be sure to head to Garden Square! Home Bargains has a range of cookware, tableware and great gadgets to cook up a crepe-tastic feast. Iceland also has a variety of ingredients and accompaniments to top your pancakes with tasty style. Why not upload pictures of your pancakes to our social media pages for us to drool over?!