Charity Success
30th January 2019
On the lead up to Christmas, Santa Claus returned to Garden Square to see who had been naughty and nice.
The jolly fellow with the big belly greeted children in his grotto each Saturday in December. This year the grotto was run by the Prospects Trust and the 1st Baldock (Templars) Cub Scouts, and the monies raised were presented to them this month.
The Prospects Trust and the 1st Baldock (Templars) Cub Scouts
Volunteers from both The Prospects Trust and the 1st Baldock (Templars) gave up their time every Saturday prior to Christmas to run the grotto, along with local volunteer Di Adkins who supported and assisted them each week.
Interestingly, this year was quite a family affair – as Snakehall Farm Manager Mark Cornell and his wife Rhian Cornell (Executive Officer of The Prospects Trust) were joined by Mark's brother Ted Cornell who is 1st Baldock (Templars) Cub Scout Leader, along with his wife Diana Cornell who is Assistant Cub Scout Leader!
Many other volunteers from both groups were also on hand to help out with festivities.
The Prospects Trust
The Prospects Trust at Snakehall Farm is a registered charity that is also an organically certified working farm – a social enterprise that allows people to grow and develop alongside the produce!
The idea for the Prospects Trust was sown in the 1980s, when some forward-thinking social workers, green-fingered gurus and those supporting young adults with disabilities came together to answer the question: "How can we challenge, support and grow adults with disabilities in the wider world of work?"
In response to this, the socially enterprising charitable care farm was created in 1989, leasing the farm site from the Cambridgeshire County Farms Estate. Over subsequent years, the Prospects Trust has sown, grown and harvested acres of smiles, achievements and abilities. The charity helps many young people with disabilities to 'grow differently'.
More information about the Prospects Trust.
The 1st Baldock (Templars) Cub Scouts
Local scout groups prepare young people with skills for life, like the 1st Baldock (Templars). Each week, the Scouts help over 460,000 youngsters between the ages of 6 and 25 to enjoy adventure whilst learning key life skills for the future.
The Scouts helps to encourage teamwork, leadership and resilience. Groups like the 1st Baldock (Templars) have helped children become everything from teachers to social workers and Olympians to astronauts! From coding to kayaking and orienteering to parachuting, all members take part in exciting programmes that develop employability, problem solving and practical skills.
A 2018 report stated that Scouts are 17% more likely to show leadership skills and work well in teams. They're also one third more likely to support their local communities.
More details about the Scouts.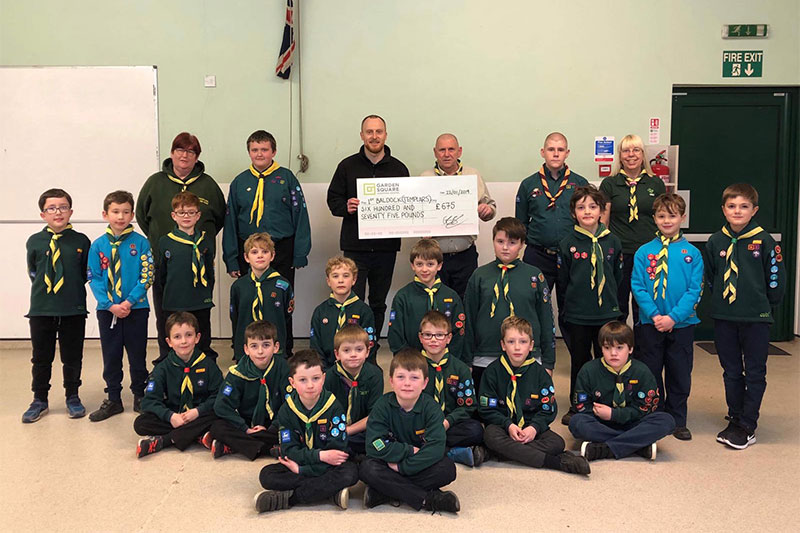 Cheque Presentation
Earlier in January, Jack Philbin (Garden Square's Centre Manager) presented a cheque to the value of £675 to the Prospects Trust and £675 to the 1st Baldock (Templars) Cub Scouts.
"We are extremely grateful to our shoppers and visitors to Santa's Grotto who helped us raise this fantastic amount for two such worthwhile causes. Big thanks as well to the volunteers who gave up their time to assist the running of the grotto each week."

Jack Philbin, Garden Square's Centre Manager
Local Charities
If any local charities or groups are interested in being involved in our Santa's Grotto this year, please do get in touch. Garden Square is always interested to hear of local causes to support.