Summer of Fun!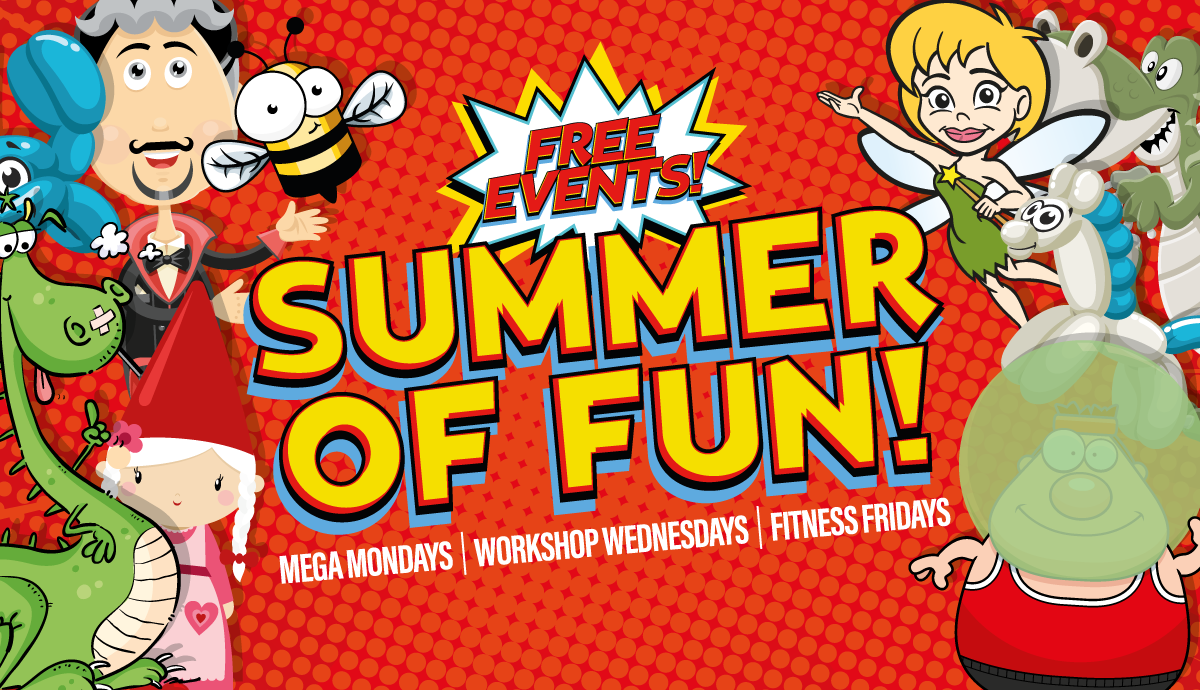 Looking to keep your little ones entertained this summer? Grab their smiles, pack their creativity and prepare for a journey of jet-setting fun at Garden Square!
The shopping centre has a series of spectacular shows, artistic activities and fitness fun, all designed to keep children occupied and educated.
The events consist of Mega Mondays, Workshop Wednesdays and Fitness Fridays, with the schedule being as follows:
Mega Mondays
Balloonatics
Monday 29th July: 11am, 1pm and 3pm
This brilliant balloon-art street show will transform Garden Square into a carnival, party atmosphere. Decorating people with incredible hats, giant costumes and hilarious toys (all made from balloons), the Balloonatics will keep the crowds entertained with lots of comic interaction.
Norville & Josephine Magic Show
Monday 5th August: 11am, 1pm and 3pm
Magic, acrobatics and singing! This award winning one-of-a-kind magic show from Noville & Josephine will entertain and amuse the whole family with stylish suave and jaw-dropping acts.
Dino Day
Monday 12th August: 11am, 1pm and 3pm
Families can step back in time and relive the sights and sounds from the Jurassic Era in our Dino Day! From tiny hatching babies to the mighty T-Rex and Triceratops, this show is set to be roar-some. Not to be missed!
Bruce Airhead
Monday 19th August: 11am, 1pm and 3pm
This is the metamorphosis of a man and a six-foot balloon in an original 30-minute comedy show! Bruce Airhead, with a volunteer, will use a voice-activated vacuum cleaner to inflate a six-foot balloon. Then to the crowd's disbelief, wearing only brightly coloured lycra shorts and choreographed to music, Bruce will slide inside the balloon. Once inside, Bruce will dance to a fast-changing sequence of music.
Adora Bubble
Monday 26th August: 11am, 1pm and 3pm
Adora Bubble shares her magic amongst a flurry of bubbles and smiles! Instantly creating an aura of wonder and delight, this fantastic fairy uses a variety of props to produce a multitude of bubbles that will fill Garden Square.
Workshop Wednesdays
Bug House Workshop
Wednesday 31st July: 10am to 3pm
Using a variety of decor pens and accessories, children can design and decorate a wooden bug house for their garden. These bug houses provide the perfect haven for wildlife throughout the summer and beyond.
Ceramic Gnome Workshop
Wednesday 7th August: 10am to 3pm
Little ones can add colour to their garden with a bespoke ceramic gnome. Using a range of acrylic paints, porcelain paint pens and googly eyes, children can create a beautiful gnome to take home.
Unicorns & Dragons Workshop
Wednesday 14th August: 10am to 3pm
In this magical workshop, pretty princesses and pint-size princes can create their own unicorn or dragon wings using colourful pens and themed accessories. Prepare to slay!
Biff Bat Workshop
Wednesday 21st August: 10am to 3pm
During this crafting session, children can design and decorate a wooden biff bat using deco pens, stencils and imagination!
Trainer Money Box Workshop
Wednesday 28th August: 10am to 3pm
Encourage them to start saving with this money box workshop. Using acrylic paints and porcelain paint pens, children can design and decorate a stylish trainer.
All workshops are suitable for children over 3 years of age. All materials will be provided and trained supervisors will be on hand to offer creative guidance.
Fitness Fridays
Every Friday in August: 11am, 1pm and 3pm
In association with Anytime Fitness, children can come along to Garden Square every Friday in August at 11am, 1pm and 3pm to take part in some fun physical activities. From smile-inducing sports to entertaining exercises, they'll enjoy plenty of frivolity whilst getting fit!
Passport to Fun
NEW Kids' Club Passport to Fun OUT NOW!
Your new – and FREE – Kids' Club Passport to Fun is waiting for you at Specsavers, Boots and Wildwood in Garden Square. Pick up yours and bring it along to each event promoted in the Passport, where you can collect stickers for attendance.
Collect 6 or more stickers and you'll receive a special Kids' Club Super Star reward, which can be redeemed at Specsavers.
To join Kids' Club, click here, click here.